Regular price
$ 54.99 USD
Regular price
$ 84.99 USD
Sale price
$ 54.99 USD
Unit price
per
Sale
Sold out
Revitalize & Balance with Niacinamide + Copper
In today's world, youth is ultimately defined by the way we look and sometimes, by the way we act. And although laughter is always the best medicine as I would much prefer to have laugh lines rather than frown lines any day, it's a given that all lines can be distressing. Yes, happy and balanced does apply to skin health as the opposite, stress - affects the skin negatively. Stress manifests itself through our facial expressions as we contract facial muscles repeatedly, exacerbating the signs of aging. Stress also causes higher levels of cortisol which can slow the skin's repair response. This combination allows the signs of aging to surface prematurely. So, if you're looking to start each day with revitalized skin that is optimally balanced, then add this dynamic serum to your daily routine. Standing out from the competition, Revitalize and Balance Serum is specifically developed with ingredients like niacinamide and copper that help defend against the onslaught of aging. It helps reduce the appearance of wrinkles and empowers radiance, revealing a more youthful look of skin that's in its natural state of balance.
Highlights & More

If you're looking to start each day with revitalized skin that is optimally balanced, then add this dynamic serum to your daily routine.

Dynamic Hybrid Serum - absorbs fast like a serum while also moisturizing like a cream

Multi-Weight Hyaluronic Acid - for amplified hydration support that lasts 24 hours

Aloe + Vitamin E – moisturizing aloe and super antioxidant oil soothes & shields

10% Niacinamide - brings balance to the appearance of skin tone and texture

1% Copper Peptides – say goodbye to damaged, old collagen

It's absolute that collagen, tissue and elastin breakdown is happening daily on both the surface and to the layers below at a pace much too fast for a "wait till you see it to deal with it" mindset. By the time we see texture changes, uneven skin tone and fine lines on the surface, they have been decades in the making. Luckily, it doesn't matter when you decide to start deferring these changes, it simply matters that you begin a consistent routine that includes a concentrated ingredient serum comprised of the proven vitamins, antioxidants, and peptides to defend these changes daily.
How to Use

Apply twice daily to face and neck before creams.

Gently tap into skin with fingertips, using circular, upward motions to minimize tugging, tearing, and stretching of elastin fibers.

Serums are potent concentrates that deliver specific ingredients. Ensure maximum absorption and results by applying to clean skin and exfoliating daily buildup.

TIP 1: Always apply serums before creams then lastly oils. This optimal order of application will provide maximum results from each product in your skin care routine.

TIP 2: If your skin care routine includes peptides, barley factor, marine collagen, retinol, vitamin c serums or others, apply in the following order. Always apply delicate peptides, factors, and marine collagen serums first. Wait 5 minutes, then apply vitamin c or retinol serums.

TIP 3: Maximize results by applying all of your skin care favorites to a clean surface, clear of oils and daily build up with our Clear & Smooth leave-on Glycolic Serum or our weekly Pumpkin & Papaya - Fruit Enzyme Mask. Amp up your routine by using a derma roller to exfoliate and boost natural collagen.


For optimum results, we recommend the application of a cream, our Ultra ArganGold Argan Oil or Marine Algae Beauty Oil after every Watts Beauty serum to nourish the skins lipid barrier and lock in potent age defying ingredients.
Ingredients

Ingredients: Aloe, Glycerin, Sodium Hyaluronate (Multi-Weight Hyaluronic Acid), Niacinamide (Vitamin B3), Vitamin E, Rosemary Oil, Copper Tripeptide-1 (GHK-Cu), Cetearyl Alcohol, Neem Seed Oil, Spectrastat (Coconut Derived Preservative)
Share
View full details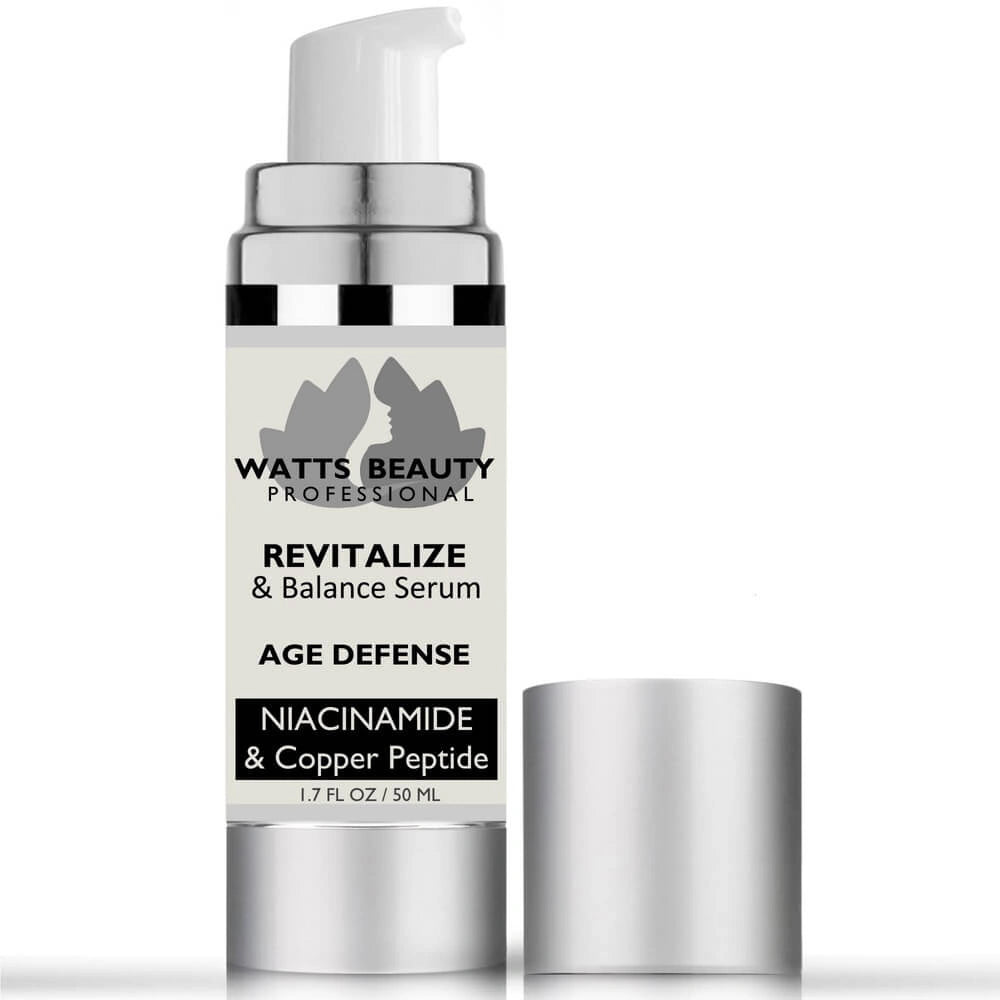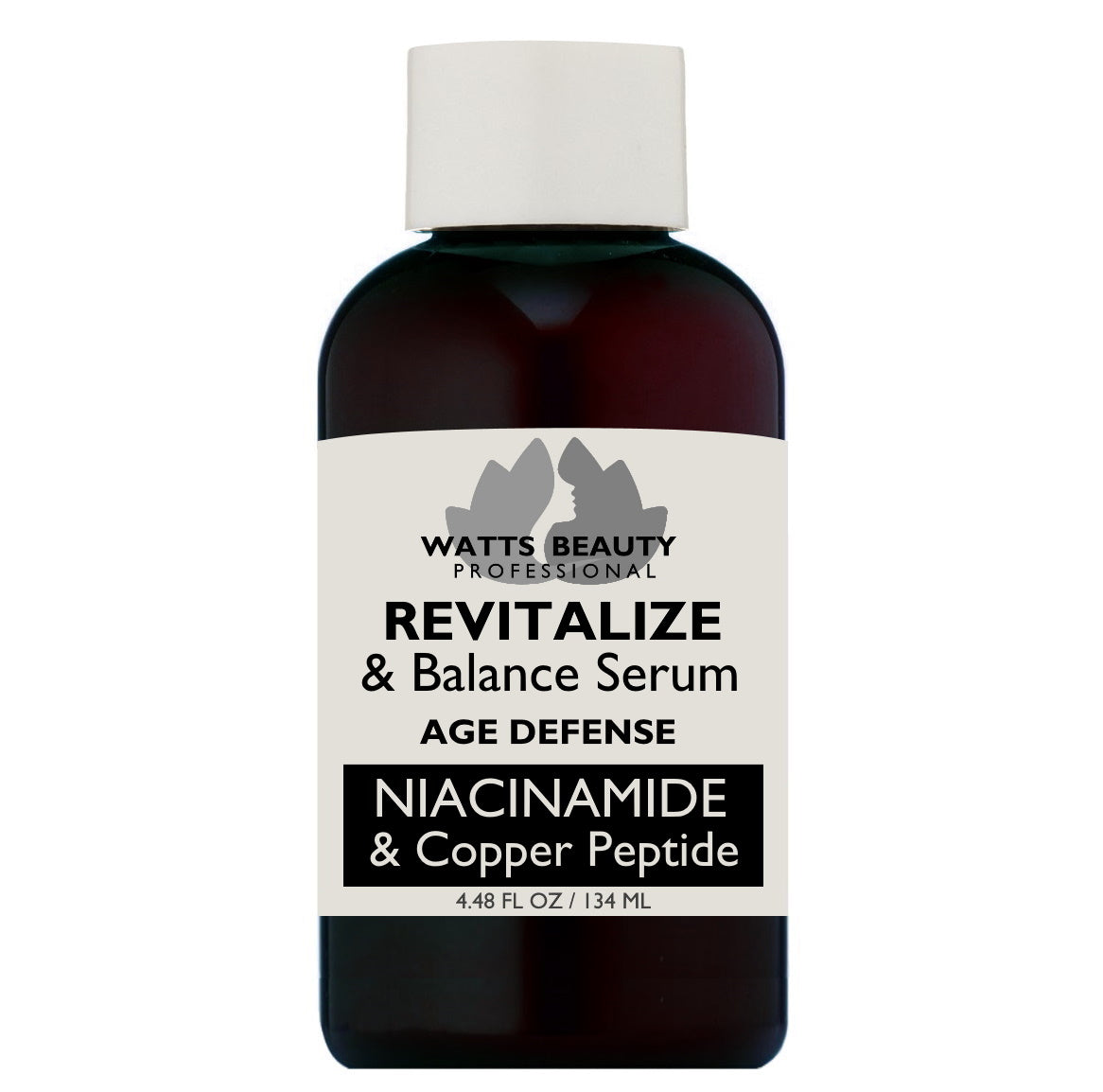 DISCLAIMERS: For topical use only. Content on this page has not been evaluated by the FDA and is not intended to diagnose, cure, treat or prevent any disease.