Regular price
$ 59.00 USD
Regular price
$ 89.99 USD
Sale price
$ 59.00 USD
Unit price
per
Sale
Sold out
Watts Beauty Amazing Marine Collagen Cream
Discover a more youthful and luminous look with our Amazing Collagen Cream. An ultimate beautifying cream packed with premium marine collagen and Bulgarian rose oil, ingredients known for collagen and elastin support. Collagen is what fills in the gaps giving skin its smooth surface. Elastin is the stretchy protein that gives skin its elasticity, allowing it to stretch but more importantly bounce back. Experience the powerful ingredients known to minimize the appearance of fine lines and wrinkles in this ultra moisturizing face and neck cream to start revealing supple, younger looking skin today.
With time, we will all experience a loss of firmness, tone and elasticity which leads to sagging skin, deep-set wrinkles, and a dull appearance. And while there is no "one magic solution", there are specific ingredients that you can add to your routine to help your skin withstand the unforgiving forces of gravity. Having healthy skin that not only protects the surface from damaging elements but that also stands up to the signs of aging over time, is the goal of most skin care routines. While we cannot stop the aging process, we can implement known ingredients that help keep skin looking younger, longer. 

Highlights & More

This luxuriously soft, hybrid cream absorbs quick like a serum plus soothes and moisturizes like a cream. Premium marine collagen and Bulgarian rose oil makes this cream a spa favorite.


Chlorella Vulgaris Marine Extract - a green algae extract known to slow the breakdown of collagen and elastin.

Padina Pavonica Marine Extract - a small brown algae known as a humectant to improve the firmness and elasticity of skin.

Bulgarian Rose Oil - has more than fifty natural compounds that nourish the skin, fortifying the skin's natural lipid barrier

Rich in Fatty Acids - which makes your skin feel and appear softer, smoother, and more supple.

Youthful 30 Blend - 30 youthful boosters scientifically blended for an optimal age defense formula that stands up against time.

Multi-Weight Hydrating Hyaluronic Acid - ultimate hydrator minimizes appearance of fine lines and last up to 48 hours.
How to Use

Apply twice daily to face and neck after serums.

Moisturizing fortifies the skins lipid barrier and is a vital step for all skin types. Gently tap into skin with fingertips, using circular, upward motions to minimize tugging, tearing, and stretching of elastin fibers.

TIP 1: Always apply serums before creams then lastly oils. This optimal order of application will provide maximum results from each product in your skin care routine.

TIP 2: If your skin care routine includes peptides, barley factor, marine collagen, retinol, vitamin c serums or others, apply in the following order. Always apply delicate peptides, factors, and marine collagen serums first. Wait 5 minutes, then apply vitamin c or retinol serums.

TIP 3: Maximize results by applying all of your skin care favorites to a clean surface, clear of oils and daily build up with our Clear & Smooth leave-on Glycolic Serum or our weekly Pumpkin & Papaya - Fruit Enzyme Mask. Amp up your routine by using a derma roller to exfoliate and boost natural collagen.

For optimum results, we recommend the application of a cream or our Ultra ArganGold Argan Oil after every Watts Beauty serum or hybrid cream to nourish the skins lipid barrier and lock in potent age defying ingredients.

Ingredients

Aloe, Hyaluronic Acid, Youthful-30 (Blend of 30 Specific Proteins), Coconut Oil, Rooibos Extract, Jojoba Oil, Stearic Acid, Glycerin, Padina Pavonica Extract, Chlorella Vulgaris Extract, Bulgarian Rose Oil, MSM, Neroli Essential Oil, Jasmine Absolute, Vitamin E, Leucidal
Share
View full details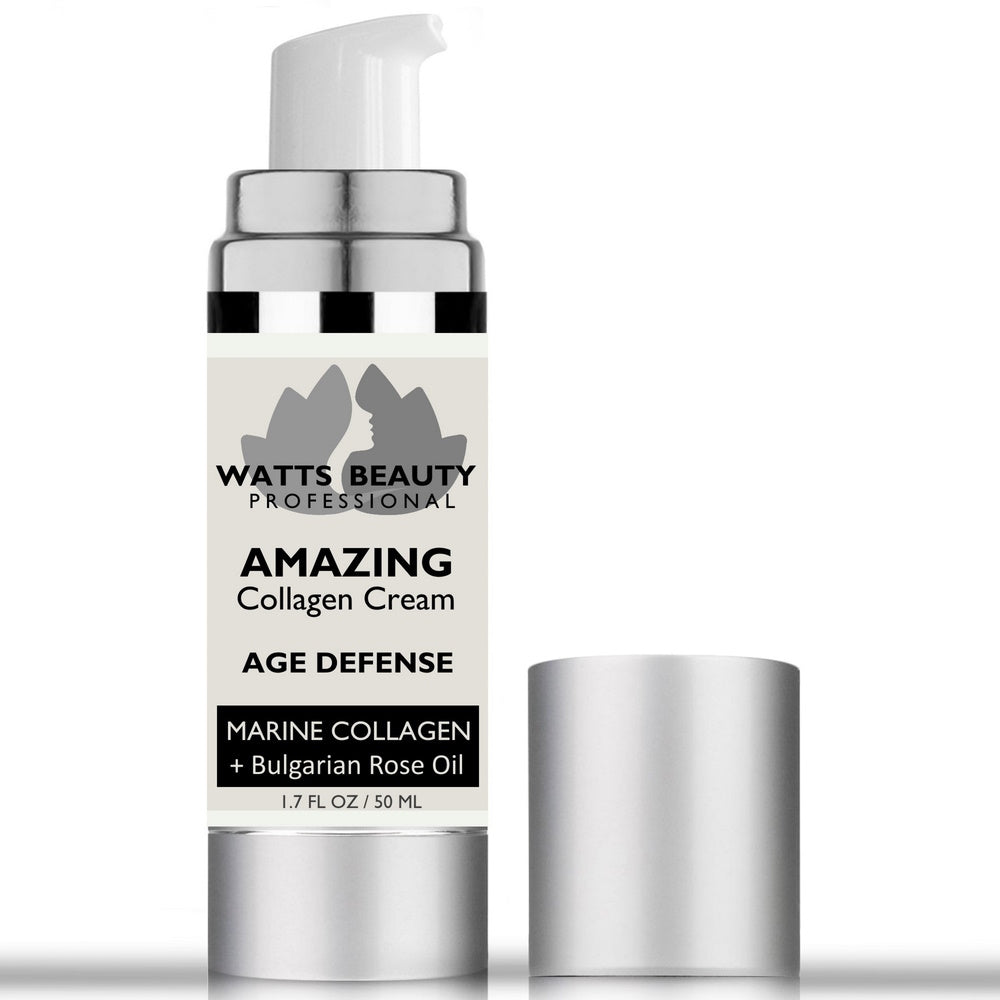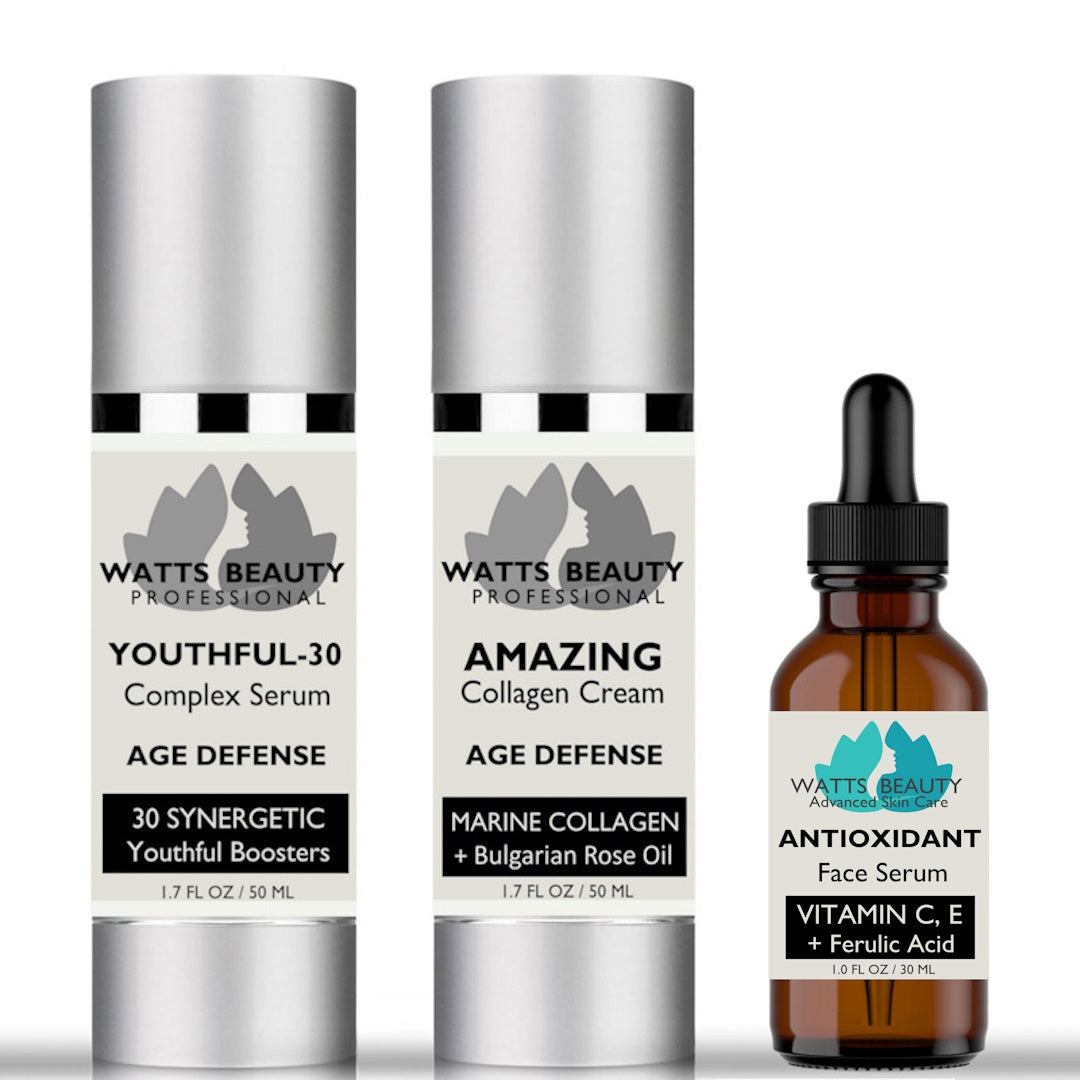 Frequently bought with...
DISCLAIMERS: For topical use only. Content on this page has not been evaluated by the FDA and is not intended to diagnose, cure, treat or prevent any disease.